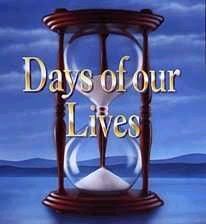 A sort of a trade-off, in my opinion. Days Of Our Lives fans were outraged earlier this year, and in late 2008, when Ken Corday announced the departures of Deidre Hall (Marlena), Drake Honesty (John), Mary Beth Evans (Kayla), Stephen Nichols (Steve) and Thaoo Penghlis (Tony). However, fans of the early 1990's of Days seem to be rejoicing. Crystal Chappell (ex Maggie, OLTL; Olivia, GL) is returning as Dr. Carly Manning/Katerina Von Leuschner. Louise Sorel brings Vivian Alamain back, and Wally Kurth (ex Ned, GH) is back as Justin Kiriakis. It's a casting whirlwind at Days Of Our Lives, but people do not seem to mind. Fan favorite Sorel has been sorely missed during her decade off. It will be exciting to see what Days has in store for her as she returns to Salem.
One of the more ironic returns is that of Wally Kurth. His character of Justin was wildly popular with Judi Evans' (ex Paulina, AW; ex Beth, GL) Adrienne. Judi, who also played Bonnie, recently departed from Days after a brief stint as Adrienne. Viewers wondered if Justin would return, and, of course, he didn't. Now that Justin does return to Days, Judi Evans joins As The World Turns as Maeve, beginning on August 26. How ironic, indeed. I just hope that Justin brings back one of his children to town. He has 2 adopted children with Adrienne (they are twins): Victor and Joseph. He has son Alexander with Anjelica Deveraux, and he has Jackson biologically with Adrienne. Alexander would be 20 years old now, without SORASing. Joseph and Victor are both 18, without SORASing. I don't remember how old Jackson is, but we could make him Will's age, 16. I think that Justin's return could be used well, especially in this Kiriakis-DiMera feud.
What do you all think of these returns? Would like to see other returns? Do you think that the firing of Drake, Dee, Stephen & Mary Beth was worth it, if this is the outcome? Let us know!